Living museum aims to sustain Philippine Arboreal Heritage
By Mike Baños
Within a ten-hectare property at Barangay Pagawan, Manticao , Misamis Oriental is a repository of endemic trees native to the Philippines.
Started in 2018 by Lawyer Carl Cesar Rebuta of the Legal Rights and Natural Resources Center, Inc.- Friends of the Earth Philippines (Kasama sa Kalikas), the 1.6 hectare Mindanaw Arboretum now has over 200 varieties of hardwood, fruit, and flowering trees that could most probably be the most number found within one area in Mindanao.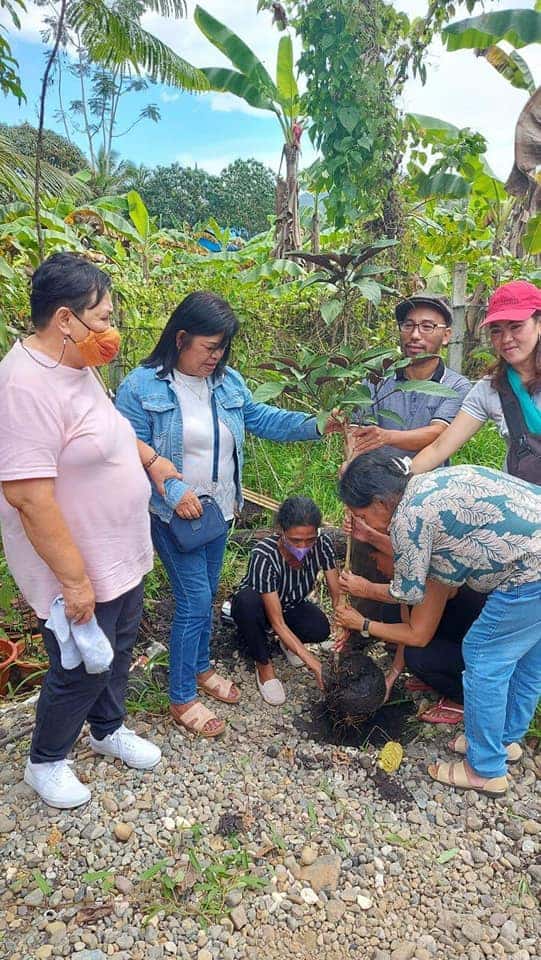 Women IP Leaders from Katutubong Lilak plant Bayawak Morado in the Mindanaw Aroboretum with Atty. Rebuta.
"I grew up joining tree planting activities during my Boy Scout days, as an active officer of our Rotaract Club, and my involvement with various Civic groups," Rebuta recalls.
He noted how many of the trees being planted in various areas of the Philippines are exotic and invasive, and how local birds did not nest in them.
"Later I learned how trees are critical to the natural biodiversity of the area, and I dreamt one day of building my own forest of Philippine native trees," he added. "I consider this my contribution to preserving our endemic trees and restoring our denuded watersheds."
Atty Carl Cesar Rebuta with the giant 400 year old Magkuno Tree of Bgy. Davisol, Liangga, Surigao del Sur.
During his frequent trips around Mindanao, Rebuta often encountered three gigantic native trees which inspired him to take up this advocacy. "Toog, Dau, and Magkuno trees are local landmarks of towns which inspired me to grow these trees in my arboretum."
"In Brgy Alegria, San Francisco, Agusan del Sur, I would often pass by the imposing Toog tree, said to be one of tallest trees in the Philippines at over 200 feet tall that will greet you from afar along San Francisco – Barobo highway."
Currently known as the tallest tree in Mindanao, Petersianthus quadrialatus (also called Toog and Philippine rosewood) grows near the national highway in the outskirts of San Francisco, Alegria municipality in the northeastern part of Mindanao. The tree is 65 meters (213 ft) high, 360 centimeters (140 inches) in diameter, and estimated to be ~ 300 years old.(agusandelsur.gov.ph. 16 July 2012.)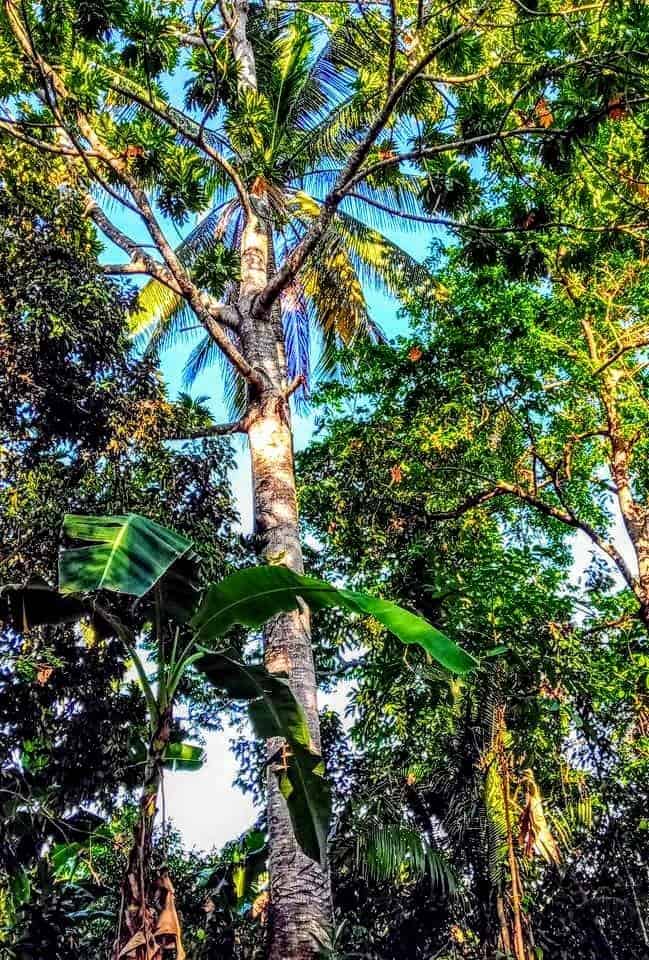 Giant Antipolo Tree
Petersianthus quadrialatus is an emergent tropical rainforest tree species of the Lecythidaceae family. Known as the Kapullan in Central Visayas, and Magtalisay in Samar and Leyte, it is an indigenous tree species in southeastern Philippines and one of the country's largest tree species.
"Famed as the hardest iron wood in the world and endemic to the provinces of Surigao, the Magkuno tree is synonymous with the place. During my visit, I got the chance to hug the oldest and biggest Magkuno tree in the Philippines, believed to be 400 years old, located in Brgy. Davisol, Liangga, Surigao del Sur."
Magkuno (Xanthostemon verdugonianus), known as the Philippine Iron Wood and considered as the hardest wood under the Family Myrtaceae (e.g. guava and eucalyptus) is a Philippine endemic tree found in the Magkuno Triangle that includes Palawan, Samar, Dinagat Island and is now also seen in Surigao del Sur and Agusan del Sur. It is listed as rare and currently endangered based on the record of IUCN.
Wildlings of rare Philippine Native trees await planting in the Mindanao Arboretum
Five years ago, Rebuta started his dream forest when led a rainforest project in the family's 10-hectare property in the hinterland of his hometown of Manticao, Misamis Oriental, and on the same year, he decided to start his own living museum of Philippine native trees he dubbed as the Mindanaw Arboretum.
Once they got wind of his project through his social media posts, friends from all over the country began sending him wildlings from their respective areas for his living museum.
"It is impossible to build a forest alone, it takes a community to build one," Rebuta observed.
Former Provincial Governor Kaka Bag-ao sent a dozen rare Magkuno seedlings endemic to Dinagat island. This red flowering tree famous is for its hardwood, also known as the Philippine Iron Wood. Daniel Calo of Cabadbaran City shared his Cebu Cinnamon known locally as Kaningag (Cinnamomum cebuense) seedlings collection, which has an important strand in the history of Mindanao.
From Negros came Batwan seedlings from Athena Banza. A native of Negros and Panay, the Batwan or batuan (Garcinia binucao) fruit is a famous Negrense souring agent often used in sinigang, kansi, inasal, and KBL (kadyos, baboy, and langka).
From Batanes Engr. Pedz Magtajas shared his collection of much sought after endemic trees: Arius, Vakaliong, and Date Palm.
Over the last five years, the collection grew into a forest as more varieties were added from his travels around the country visiting forestry schools, DENR research units, NGOs promoting native trees, indigenous people's groups, and native trees enthusiasts.
Visitors to the arboretum also brought in their contributions: IP leaders from Katutubong Lilak (Purple Action for Indigenous Women's Rights, an organization of IP women leaders, feminists, anthropologists, human rights advocates, environmentalists and lawyers who support the struggle for indigenous women's human rights) symbolically planted Bayawak-Morado (a Philippine native flowering tree).
"I can appreciate very much this effort, since there are still big stands of endemic trees which remain here in Mindanao," said retired forester Carlos P. Bagonoc of the CENRO Office of Department of Environment and Natural Resources (DENR) in Manolo Fortich, Bukidnon.
"For instance, I once saw in the forest at Guilang-Guilang, Manolo Fortich a stand of gymnosperm trees (a relative of the almaciga) which though not quite as tall as the Giant Sequoia of California, were nevertheless similarly impressive," he added.
Sequoia sempervirens, commonly called Red Douglas, California Redwood, or Giant Sequoia, is the tallest gymnosperm in the world. It can thrive for over 1,800 years and grow to over 110 meters tall.
Two of the biggest trees inside the arboretum are Antipolo (also called "Tipolo" in Ilonggo) a tall evergreen tree native to the Philippines that can grow up to 30 meters high and attain a diameter of 1-2 meters. Artocarpus blancoi belongs to the family of Moraceae and genus Artocarpus, and is a close relative of the Jackfruit/Nangka/Langka (Artocarpus heterophyllus).
Like its cousins, the seeds of the Antipolo can also be cooked, boiled or eaten raw. The wood of this tree is said to be of good quality and can be used to make furniture.
The name Artocarpus is derived from the Greek words artos (bread) and karpos (fruit). Thus on some edible species, this breadfruit is eaten as a staple diet.
Aside from the arboretum, visitors to the 10-hectare farm dubbed as the Birds' Nest Sanctuary can also view their demo farm with farmers from nearby villages, avail of the use of their Mantukaw Event Hall, rent one of the six replicas of indigenous people's houses in Mindanao, or visit their bee farm, World War II museum, and Butterfly Garden.
At present, the arboretum is accessible via a cemented road some 900 meters from the national highway through the first interior barangay of Manticao.
The Mindanaw Arboretum is now listed in the 2023 Directory of Philippine Native Tree Gardens, Arboreta and Pocket Forests of the Philippine Native Tree Enthusiasts (PNTE),
Bagonoc relates how a good access road can help improve the flow of tourists and students to the area, similar to how the 1,143-meter concrete access road to the Historic Cinchona Forest Reserve in Kaatoan, Lantapan, Bukidnon has been opened to the general public.
"Hopefully, in the future, this forest will also be a similar attraction as the Red Sequoia forest in California which is visited by some 3 million tourists not only from the US, but from all over the globe," Cabunoc noted.
####