No one lights a lamp and hides it in a clay jar or puts it under a bed. Instead, they put it on a stand, so that those who come in can see the light. (Luke 8:16 NIV)
The global pandemic created havoc and all sorts of disruptions in the lives of people around the world. But for a small business start-up in Cagayan de Oro City, it was the tipping point to a eureka moment which set it down the path to success.
Kiddie Momma Wellness (KMW) Products Manufacturing was well on its way to becoming an established maker of hand-made, all-natural products, that by 2019, it already had some 160 direct sellers nationwide that they had to expand their production facilities.
"The pandemic was the biggest challenge we ever faced," admitted KMW owner Catherine Kionisala Fabello during an interview in the Department of Trade and Industry's (DTI) Negosyo Atbp. program over DZRH Teleradyo hosted by Angelo Palmones. "We couldn't sustain our business financially, and thought of closing it down for good."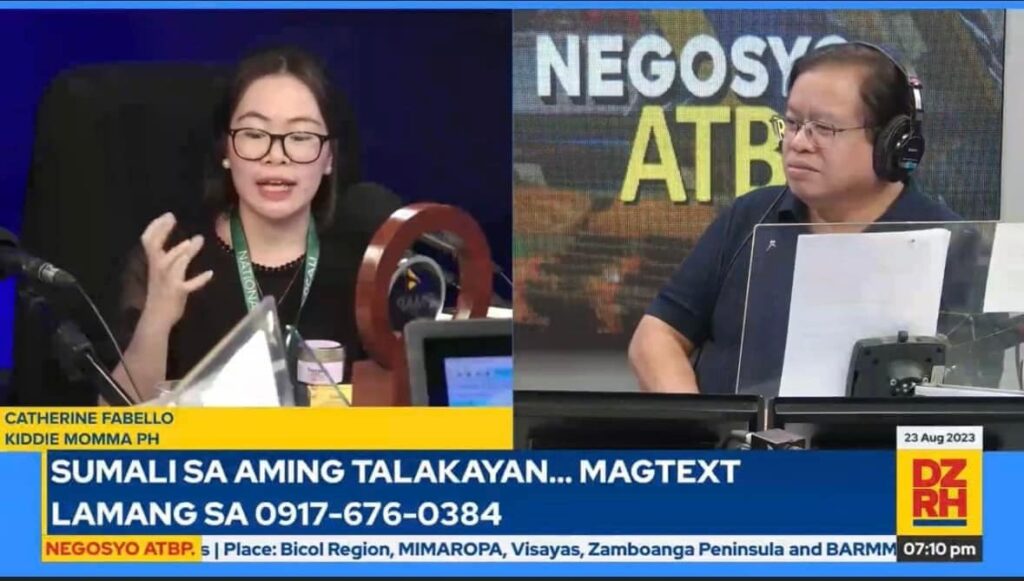 Catherine K. Fabello was featured in DTI's Negosyo Atbp progam hosted by Angelo Palmones over DZRH.
Fortunately, the DTI Region 10 office offered her a slot in the agency's Enhanced Business Learning Session (EBLS) in 2021 which taught her how to correctly manage her budding start-up and move her business forward. Even after the intensive 3-month learning course, DTI-10 continued to invite her to join business related seminars and gave her products big-time exposure.
"Thank you so much to DTI, you really helped me make my business grow, with a very strong foundation," Fabello said.
The Candle is lit
An offshoot of the training was Fabello's brainstorm when she realized she could help her community deal with the mental challenges brought by the pandemic through her background in aromatherapy.
"I thought of a problem in my community during the pandemic that I could solve with my products through aromatherapy," she shared. "Through all-natural scented candles exuding the benefits of natural oils that promote calmness and relaxation, we could help people cope with the mental stress brought about by the pandemic."
Mike & Cathy Fabello at their Kiddie Momma PHJ Booth at SM CDO Downtown Premier's Start Upp Market
Thus, in September 2022, CAMI Candles (coined from her and hubby Mike's names) became the latest addition to their product lines. Offering 37 classic and six premium scents, the scented candles were made from an all-natural blend of beeswax, soy wax and coconut wax with wooden wicks.
The couple chose to produce candles instead of mere fragrances because of the metaphysical and spiritual connotations that lighting a candle brings.
"It's different when someone gifts you with a candle that gives you light, at the same time good vibes from aromatherapy. Beeswax also releases negative ions that purify the air around you," she explained.
While their essential oils are imported, the firm sources beeswax from Bukidnon and Coconut and Soy wax from Metro Manila.
The combination of the three waxes have produced an eco-friendly, healthy and sustainable product. Compared to paraffin candles which are sourced from petroleum by products which emit a black smoke, CAMI Candles are smokeless, and combined with the pine wood wicks produces a crackling, relaxing effect that complements the aromatherapy benefits of its essential oils.
According to Shawn Chun of the Candle Business Boss blog, "the most environmentally friendly wax overall are beeswax and coconut wax. They are waxes that can have the least impact on the environment because they are produced in a way that has positive, have low, or no environmental impact, and can be produced in a way that is cruelty free, ecologically sound, and any living things are treated in kind and sustainable ways – including a safe working situation for humans, as well as paying them a decent wage."
"Coconut wax is the game changer because it can absorb a large volume of fragrance that you can smell even if the candle is not lit," Fabello notes. "Aside from being sustainable (not being associated with deforestation and use of pesticides and other harmful chemicals) it is obtained through a natural process (being a non-GMO product), has a slow even burn, an amazing scent throw, and is smokeless and soot-free."
CAMI Candles also last much longer than paraffin candles because of the low melting point of their tri-wax combi. Their P799 model can last as long as 90-100 hours with continuous use, and the P399 size from 50-60 hours. When these are not left to burn continuously, they typically last longer, and even much longer when used with a candle burner.
Fabello admits the immediate challenges facing the product's introduction to the market were introducing people to get to know their brand, and telling them how their products could help them through aromatherapy.
The response was immediate. CAMI Candles becoming an essential element of self-care and relaxation for people everywhere. With a strong commitment to health and wellness, Catherine's vision blossomed into a brand that provides comfort, joy, and wellness to countless individuals and families.
atherine K. Fabello at the CAMI C andles Hybrid National Trade Fair Booth
Hybrid National Trade Fair 2023
However, it was in this year's Hybrid National Trade Fair 2023 held August 23-27, 2023 at the Megatrade Halls 1-3, 5th Level, Mega B SM Megamall, Mandaluyong City, that CAMI Candles had its coming out party.
First, it became the only entrant among various MSMEs endorsed by the DTI-10 regional office to qualify for participation in the highly anticipated event.
DTI's Bureau of Domestic Trade Promotion which organized the event set up a stringent screen of qualifications where it checked all the boxes with flying colors: Product Quality (conformance of product to general standards and freedom from deficiencies and defects) (20%); Product Safety (availability of FDA Certification and/or License to Operate (15%); Packaging and Labeling (shelf impact and required labeling information including the name of product, list of ingredients, net contents, name and address of manufacturer, packer and distributor and lot identification) (15%); Sustainability Compliance (economic viability, social desirability, and environmental soundness (20%); and, Production Capacity (production output, tools, equipment, and manpower skills (30%).
Organized by DTI's Bureau of Domestic Trade Promotion in partnership with the DTI Regional and Provincial offices, the Hybrid National Trade Fair 2023 featured a wide array of products ranging from Fresh Produce/Organic Produce; Cooked Food and Halal non-food collections; Baskets and Bayongs; Furniture and furnishings; and Label and Packaging Design Services, among others, which opened daily for free to institutional buyers, guests and the general public.
CAMI Candles crossover appeal was evident in the Innovative products section made from biotechnology and other science-based techniques in non-food production; High-Value coconut products and by-products; as well as the Health and Wellness Products/Food Supplements section.
Aside from paying all their expenses, DTI -10 also arranged to have Fabello featured in its Negosyo Atbp. Program over DZRH Teleradyo, and included CAMI Candles as one of its featured MSMEs online.
She offers the following advise to budding entrepreneurs that she said is the secret to the success of CAMI Candles: "Find a problem in your community and make your business its solution."
For people outside Region 10, Cami Candles can be ordered online from Lazada and Shopee.
She perceiveth that her merchandise is good: her candle goeth not out by night. (Proverbs 31:18 KJV)
####