By Tito Mike
A Kagay-anon chef based in New Orleans, USA has been raising the bar for Filipino-inspired dishes in a city famous worldwide for its multi-ethnic cuisine.
Most recently, Nicole "Nikki" Cabrera-Mills of the Pêche Seafood Grill was spotlighted in a feature article Sublime Seafood by John T. Edge on The Entertainment Special August/September 2023 issue of Garden and Gun magazine, a national magazine based in Charleston, South Carolina that reports on the South's culture, food, music, art, literature, and its people and their ideas.
Southern Foodways Symposium
"Mills works within the framework she inherited, adding subtle updates that reflect her homeland, the evolution of her cooking, and the multiethnic makeup of her adopted city," writes Edge, a writer, commentator, and director of the Southern Foodways Alliance, an institute of the Center for the Study of Southern Culture at the University of Mississippi. He has written several books on Southern food, and contributes to the Oxford American and the New York Times, and has written for Garden & Gun and Afar.
For instance, Edge describes how Chef Nikki's Snapper (locally known as Maya-Maya) ceviche was inspired by the kinilaw her mom Ella makes with fresh coconut milk. Her Pêche version has sweet potato puree, radishes, and chili oil. Her Laing (a Filipino favorite traditionally made with dried taro (gábi) leaves and coconut milk, is instead made with kale.
"Our dishes are still Southern in many ways as we stay true to using local products, but the flavors have evolved," Nikki noted. "But we've gotten them ready," she added, referring to their customers and her adopted city. "We've opened them up."
Citrus Glazed Turnips by Chef Nilkki Cabrera-Mills
In another article earlier published in the 19 April 2023 issue of The New York Times Magazine, cooking writer and columnist Eric Kim raved how her Citrus-Glazed Turnips elevates the humble turnip (singkamas) to a sleeper hit in a city renowned worldwide for its Creole cuisine.
Kim, who writes for the Food Section and NYT Cooking, believes Chef Nikki hit a homerun with the side dish which has become one of Pêche's sleeper hits.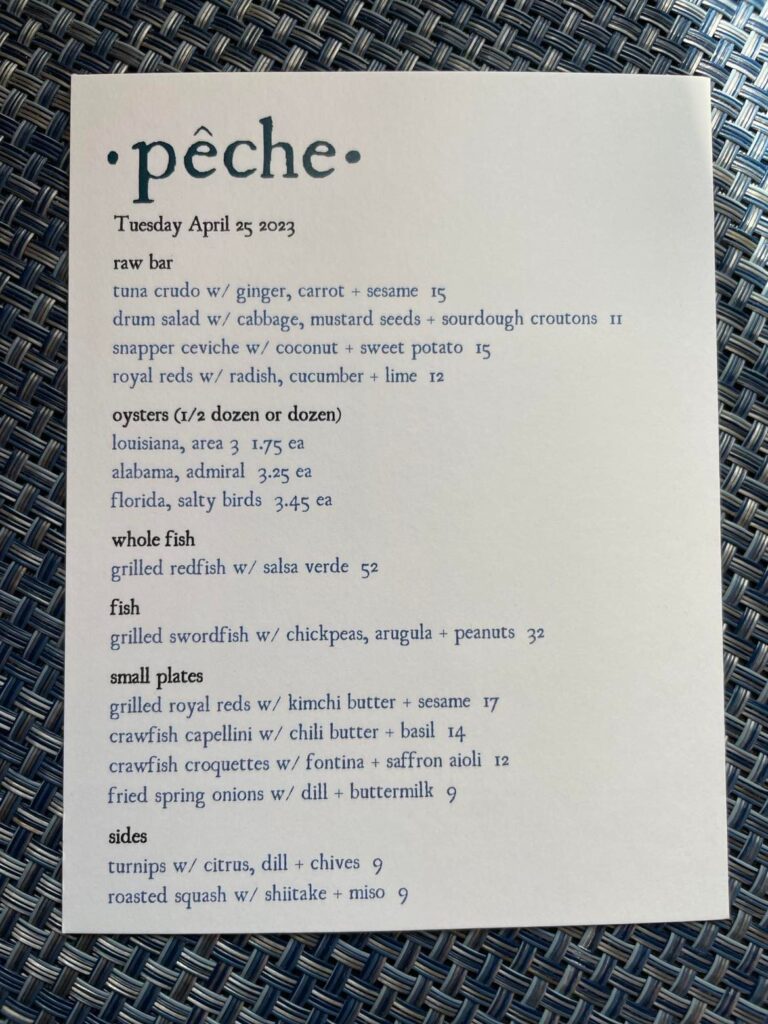 Peche specials card features citrus glazed turnips as a side dish
Since the turnip season coincided with the citrus season, Mills combined them in a tangy-sweet and bitter-mellow glaze through a simple reduction of satsuma juice, gochugaru and butter, which tempered the quick-roasted turnips and gave them an almost an iridescent mother-of-pearl shine, Kim noted.
Mix Mix
Chef Nikki also served as an ambassador of Philippine cuisine when she was featured on the pilot episode of Take Out with Lisa Ling which started streaming on HBO Max on January 27, 2022 when Filipino food blogger Andrew Marin and host Lisa Ling discussed the importance of keeping Asian cuisine and culture alive in America during its first episode Mix Mix .
"The series explored different AAPI (Asian American Pacific Islander) cultures through food, specifically the ones a lot of people don't know about," Chef Nikki said in an online correspondence with this writer. "For New Orleans, Louisiana, they talked about Filipinos here and how Jean Lafitte was the first known Asian settlement in the country, when Filipinos came through with the Spanish Galleon."
Chef Nikki's kinilaw inspired Red Snapper Ceviche.
Chef Nikki was filmed in the Pêche segment of the episode while the hosts commented on how she put Filipino flavors in their dishes, and later served them Filipino-inspired dishes from their menu including whole red snapper (maya-maya), kinilaw, tomato cucumber salad and fried okra.
Long Road to The Big Easy
Born and raised in the Philippines, Nikki grew up in the fast growing city of Cagayan de Oro, which is expected to become the country's fourth metropolitan center by 2025. She finished her elementary and high school education with Corpus Christi School.
Her grandparents owned the Little Town Bakery in Malaybalay, Bukidnon where she grew up watching the production of fresh baked bread in an old fashioned wood burning stone oven.
Nicole's family was known for growing and producing some of the sweetest corn in the area along with farm raised sheep, cattle, chickens and horses. Her mom Ella specialized in making and selling siomai and siopao at the family's Shao Mai Dimsum stalls in Cagayan de Oro and Cebu.
After graduating from Ateneo de Manila University, Nikki moved to New York in 2001 to attend the French Culinary Institute in Sohoupon the suggestion of her father Bobby.
Her culinary career began with Danny Meyer and Union Square Hospitality Group cooking at both Eleven Madison Park and Gabriele Kreuther's the Modern at MOMA. She worked as a tournant for Chef Alain Allegretti at Atelier in the Ritz Carlton Central Park and later with Chef Dan Kluger at The Core Club.
After New York, Nikki moved to Los Angeles to work at the Thompson Beverly Hills with Chef Brian Redzikowski.
She moved back to Cagayan de Oro after L.A. to open Bourbon Street, a Creole concept restaurant which was the first of its kind at the Rosario Arcade of Limketkai Center. After a few years, she and her husband Drew relocated to New Orleans for Drew's new assignment in a chain of hotels. She later joined the Link Restaurant Group to be part of the opening team at Pêche Seafood Grill in 2013, and became its Chef de Cuisine in 2019.
What's next for our intrepid champion of Filipino-inspired cuisine in the Big Easy? She's doing a big dinner in October for Southern Foodways Symposium where she'll discuss the same theme
"Where's the South?"
####