By Tito Mike
With its 12th Mindanao Fashion Summit, the Oro Fashion Designers Guild (OFDG) marked its big comeback with a three-day extravaganza held at the Ayala Centrio Mall on August 24-26, 2023.
The first MFS was organized by the OFDG during the term of then President Gil Macaibay III, along with the, Mark Christopher Yaranon, Ruvil Neri, Mimi Parrel, Celeste Magsalay, Alquin Cap-atan, Villa Go, Joshua Guibone, Alma Mae Roa, and the late Benjie S. Manuel.
Over the last 12 years, OFDG founders Guibone, Macaibay III, Roa, and Yaranon have been bolstered by Shine Casiño, Kiko Domo, Juniel Doring, Melvin Lachica, Mavy de Leon Ladlad, Arnulfo Neri, Ruvil Neri, Boogie Musni Rivera, and Ann Semblante.
After a hiatus due to the global pandemic, MFS was back with a vengeance with its three day extravaganza featuring the Mindanaoan Collection on Day 1, August 23. The OFDG members flaunted their ethnic inspired Collections featuring the provinces of the region: Bukidnon: Macaibay III, Neri and Casiño; Camiguin: Yaranon and Lachica; Lanao del Norte: Ladlad, Guibone and Domo; Misamis Occidental: Doring and Neri; and Misamis Oriental: Roa, Musni Rivera and Semblante.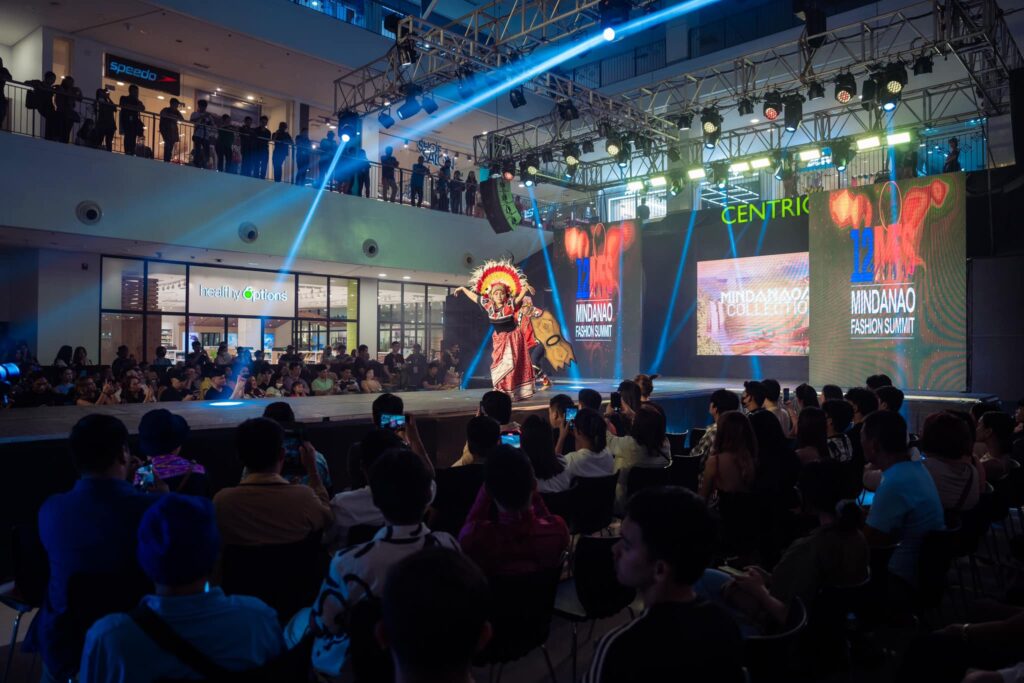 August 24, (Day 2) featured the LGTBQIA Fashion Show, Guest Designers Show, and Designers Assembly Show with DA members Jie-jie Aisa, Dandy Domingo, Dio Deus, Jayson Monding, and Carmel Kho Ricarte.
The following guest designers from around Mindanao were showcased in the Guest Designers Show: Trisha Asis & Zoe Botwin (Cagayan de Oro City); Bonie Adaza (Davao City); Jermaine Nabong (Iligan City); Sasha Sarah (Marawi City); Victor Tasing (Ozamiz City); and Toping Zamora (Davao City).
Not the least, August 25 (Day 3) showcased A Special Segment (VVIP) featuring Macaibay's Hibla recently exhibited in Kuala Lumpur, Malaysia; followed by a tribute show to the late OFDG founding member Benjie S. Manuel, and the Holiday Collection.
The following guest models from Metro Manila also graced the 12th MFS Runway: Santino Rosales and Kirst Viray; Miss Charm Philippines Krishnah Gravidez; and Miss Universe 2021 Top 5 Bea Luigi Gomez."
The 12th Mindanao Fashion Summit was led by Event Chair Mavy de Leon Ladlad and the OFDG with Ayala Malls Centrio, and the generous support of Rise CdeO, Mayor Rolando "Klarex" Uy, Rep. Rufus B. Rodriguez, Vice Mayor Jocelyn "Bebot" Rodriguez, the City Government of Cagayan de Oro, Higalaay Festival, the Department of Tourism Region 10, the House of Representatives, and the City Council of Cagayan de Oro in coordination with J&I Interior Solutions, The Factory Studio by Ed Abella, Glitterati Models, and MADC Dental Clinic.
The event was also supported by the 12th MFS official hotel accommodation, Marianne Suites; official hair and makeup team, Beautifully Beautified by John Steinmann Team, led by John Steinmann; official photographer, Roger Lactao Jr Photography, by Roger Lactao; and our official videographer, Marzel Digital Studio, by Mark Quitoriano.
The organizers also expressed their thanks and gratitude to Point Source Audio, managed by Ryan Valmorida; the production and coordination team: Liling Tongco, Faulkerson Balaba, Raphael Oro, Jufel Yare, Haira Casim, JP Heyrosa, Ariel Jadap, Rorong Fortalejo, Jocel Quidet, James Turno, and Abby Macapagal, with voiceover artist, Zee Suldevilla, correspondent, The Carry On Queen, Christer Kim, and Charlize Mendez Legaspi for her exceptional write-ups on this year's Mindanao Fashion Summit.
Not the least, the organizers expressed their heartfelt gratitude to the Ayala Malls Centrio Team—Hammer Roa, Carina Reyes, and Danae Solijon—for their invaluable support in providing logistical and technical requirements, as well as for their efforts in bringing Kirst Viray, Santino Rosales, Krishna Gravidez, and Bea Luigi Gomez to grace the MFS Runway.
####